Monogram Guide
Monogramming puts a personal touch on a special find, or
creates a truly thoughtful gift.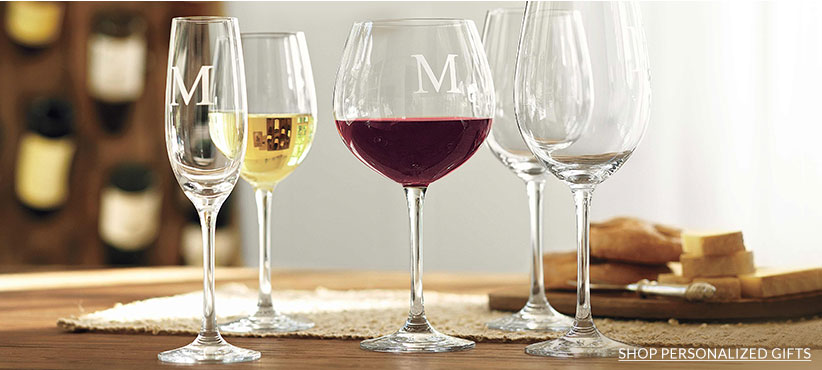 Step 1


Making Your Selection
Single Letter

Choose single initials for first names, last names, or household name.
Two Letter

Choose a double letter to show someone's first and last name initials (Emily Mathews) or couples with hyphenated or different last names (Erickson-Miller).
Three Letter

Choose a three letter style for an individual with a middle name (Samantha Lauren Price) or a couple with the same last name (Steve and Lisa Polk). For small big small monograms, traditionally the middle initial is the last name. For same size letter monograms, traditionally initials are first, middle, last.
Name/Phrases

For products that offer personalization, using the entire family name or monogram with a favorite phrase. Some items can accommodate up to 20 letters. See individual products for details.
Step 2


Color Options

For embroidered monograms such as bedding or towels, we offer a wide selection of thread colors. Engraved, etched, or debossed items do not require a color choice. Colors below are representative; actual colors are curated by product.

Step 3


Font Style
Personalize

One Letter Monogram

Two Letter Monogram

Three Letter Monogram

Step 4


FAQ
How much does monogramming cost?

The cost for monogramming a product is $15.00 per product.

How many letters or numbers can I order?

Character count varies by product, font and scale. Some items are monogrammable with one initial only, while others can accommodate up to a maximum of 20 characters. See individual items for details.

Which fonts and colors can I choose from?

Our designers created font styles and color options for each of our monogrammable products. Most products can be monogrammed in one to thirteen font choices, while color options vary. We don't offer custom fonts or colors and we can't mix and match fonts or colors on an item. See individual items for details.

Can I cancel an order or return a monogrammed item?

Orders for monogrammed items cannot be cancelled or returned except when due to defect.