All Outdoor Tabletop & Bar
Outdoor Tableware For Fun Dining Al Fresco
Set your patio table with outdoor tableware for more dinners outside. Gather family and friends on your patio and deck for delicious meals al fresco from the time weather first warms up until the first chill hits at the end of the season. Dinnerware and serving pieces like plates, snack trays, serving bowls and more let you entertain outside with the same grace and style as in your dining room. Be sure to pick up everything you need to make this season dining outside one of the best ones yet.
Outdoor Dinnerware Essentials
As outdoor dining becomes a more popular lifestyle ritual, outdoor tableware becomes more essential. Stock up on the basics to always have what you need for poolside brunch, a tasty evening of grilling with family or a barbecue party with friends and neighbors.
Choose brightly-colored dinnerware to go with the vibrant mood of dining outside. Bold cobalt, hot orange and sunny yellows are in the right place out here.
Look for materials that resist shattering or cracking. Melamine is a great choice for meals outside. Just be sure to wash these plates by hand.
Enjoy the wide range of patterns available for outdoor tableware today. Select styles that look like they're glazed or hammered or pick up an intricate pattern you might not be able to pull off in your interior dining room.
Serving Pieces for Parties, Barbecues and More
Serving pieces you select for outside make getting meals from the kitchen to the patio easier than ever. When you have go-to pieces, it's convenient and fun to bring food out. Choose a stack of bowls or serving platters if you know you love to entertain.
Outdoor tableware doesn't have to match as exactly as you might prefer inside. Go for brightly patterned bowls and serving utensils.
Galvanized serve ware lends an upscale resort vibe that looks just as good during a down-home barbecue, boil, asado, picnic or other informal party.
Have fun with pieces like a galvanized snack wheel that looks like a Ferris wheel or giant sculpted animals that act as napkin holders or bar accessories.
Outdoor Glassware and Drink Dispensers
Outdoor glassware is crucial to your dinners, parties and poolside hangs.
Anything you use outside should be shatter-resistant so that you can enjoy the feel of a wine or cocktail glass without the worry about shards anywhere in the yard or pool.
Make sure you have at least one or two top-notch drink dispensers for group gatherings. The kind with a spigot lets you put out water and lemonade for all.
Lots of pitchers make serving easy, too. Choose ones wrapped in macrame for a fun, bohemian or rustic style.
And if you've ever wanted an excuse to treat yourself to a giant galvanized metal cooler on a stand, curating your collection of outdoor tableware is the perfect opportunity.
Related Products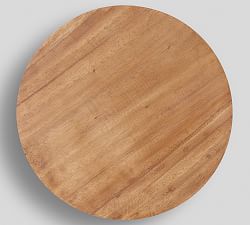 Acacia Wood Charger Plate
• Made of solid acacia wood with a ...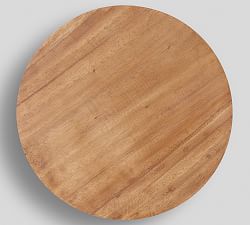 Acacia Wood Charger Plate
Description
• Made of solid acacia wood with a natural beeswax finish. • Crafted of acacia, a highly durable and water-resistant hardwood with an eye-catching grain. • Lead free. • Imported. • Wipe with a soft, damp cloth. • Overall: ...