See Why Artificial Flowers Rule The Indoors
Experience the beauty of artificial flowers in your home for an incredible transformation. While fresh flowers are always gorgeous, going out to pick them up, trimming them, caring for them and replacing them regularly may be on the schedule of a less busy person than you. For a no-maintenance, high-design look, stick with artificial flowers in your rooms and entryway. They'll brighten the look of your whole home every day, with no extra attention needed.
Discovering New Levels of Faux Flowers
Artificial flowers get better and more realistic looking all the time. At Pottery Barn, the faux flowers you can shop are gorgeous, lush, layered and often include hand-applied artistry for an ultra-realistic look. The same goes for faux plants. These bouquets are as beautiful as the real thing.
Silk flowers are a traditional material for artificial plants. The sumptuous texture is long-lasting and as delicate as real flower petals.
Choose flowers that are hand-painted for a natural look. Color is applied the same way it might look in nature with different gradients of saturation along petals and clusters.
Look for hand-curled flowers, too. Hand-curling ensures your faux flowers present with the same or better fullness of a real bouquet. Petals and stems are turned to create a gorgeous display.
Jump on The Greenery Trend with Faux Plants
While there are a lot of easy-care plants you can enjoy--the succulent trend comes to mind--getting that lush-jungle-like look requires greenery, like big leaf arrangements or vines.
Indoor trees are a stately way to add height to a room's accents. Check out faux fiddle figs for a popular style.
Wall art that marries plants, like faux ferns or other beautifully bunched plants, are on trend right now, too. The greenery mounts to a board that you hang just like you'd hang a mirror or other artwork.
Tabletop plants adorn dining tables, side tables and desks to create centerpieces or accents.
Styling Artificial Flowers
Place your artificial flowers just like you would real ones. Try putting a low glass vase under a table lamp or a big faux snake plant on the floor by a sofa. Put little art objects, picture frames or other home accents around a vase with flowers.
The way you style your faux flowers and plants should simply match the rest of your decor. Look to your personality and imagination to finalize the details in each room.
Related Products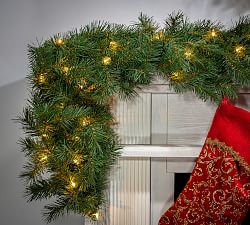 Faux Pre-Lit Aspen Spruce Garland - 9'
Spruce up your home this holiday. Warm up ...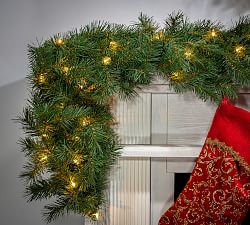 Faux Pre-Lit Aspen Spruce Garland - 9'
Description
Spruce up your home this holiday. Warm up your space with this lush, glowing garland that looks so real the only thing missing is that woodsy, pine scent. Crafted of PVC, metal and lights. Features clear white lights. Each ...