Coffee Table Books for Every Taste
Coffee table books showcase more than just their cover looks and interesting content. They're a meaningful statement about your intellectual interests, creative mindset and interior decorating taste. Vastly popular throughout the 20th century, these oversized books are making a comeback in modern homes. As new releases become available, you can adorn your coffee table and other display surfaces with these artistic table books.
Discover New Coffee Table Books
Start a conversation over one of these glamorous tomes. By selecting subject matter dear to your heart or to expand upon a novice interest, you invite insights, information and opinions on topics that matter in the world of art and society.
Explore the numerous coffee table books available on fashion. Retrospectives of designers or highlights of haute couture are almost universally beloved.
Interior decorating books entice most people to flip through the pages, especially when they note how amazing your own home looks. Are the secrets to your decor in these pages?
Biographies and books about people of interest or their work keep people's interest for their in-depth or insider stories and images. See a new side of those you admire with a large, beautifully produced book.
Books about destination cities or travel feature high on the must-have list for most. Panoramic images and captivating details inspire daydreams and maybe even some real-life planning.
Creating a High-Style Home with Art
Adorning your home with books can be just as important as the artwork you select. A high-style home is a thoughtful home, so books take a rightful place in the milieu.
Pair your table book selection with your abstract art. Look for color or thematic similarities to tie works together.
Choose a stack of oversized books to complement a carefully chosen palette. Neutral rooms provide a soothing backdrop for enjoying books with covers featuring earth tones or black and white photography.
Homes with lots of texture have room for books featuring mixed-media art or nature books. Homes with high-contrast decor look great with monochrome or equally contrasting covers.
Where To Place Table Books
Oversized books are all about proportion. Artists and authors illustrate big subjects with dramatic imagery and clean writing. Place your books where they stand out best.
The coffee table is the favorite place--hence the name. Embellish the top surface or add spines to an apron shelf underneath the tabletop.
Look to end tables for extra places for books. Try putting them next to a welcoming armchair or at the edge of a sofa.
Console tables allow guests to peruse while standing or mingling at parties or group gatherings. In this location, you can still enjoy the book while keeping your coffee table clear for drinks and snack service.
When you're looking for a memorable gift, these books make impressive presents, too. Choose a topic your recipient loves and present them with a beautiful piece of art and entertainment.
Related Products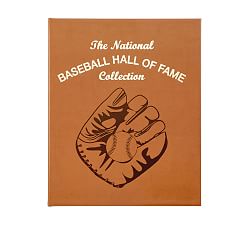 Baseball Hall of Fame Leather-Bound Book
Hand bound genuine bonded leather book. Hardcover. 192 ...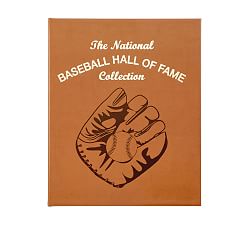 Baseball Hall of Fame Leather-Bound Book
Description
Hand bound genuine bonded leather book. Hardcover. 192 pages. Made in the USA with imported components.