7 Creative Uses for Outdoor String Lights
Decorating with string lights is an easy way to create an enchanting backyard oasis. At Pottery Barn, you'll find a wealth of outdoor string lights that are perfect for lighting up patios, pathways and garden archways. Here are seven creative ways to use them.
Light Up Your Garden
Use LED string lights to illuminate a garden pathway or draw attention to your landscaping. This decorating trick works best with dense shrubbery like buckthorn or pachysandra. Simply lay your outdoor string lights on top of the plants in a random pattern to give your garden an ethereal glow.
Use Them on Trees
Light up your backyard by stringing lights between trees to make a canopy that recreates the twinkling beauty of the night sky. Or, wrap strings of white LED lights around tree trunks to add a touch of charm to your outdoor entertaining area for special occasions like New Year's Eve and Memorial Day. During the holidays, add a few strings of colored string lights to give your yard a more festive feel.
Make Your Own Hanging Patio Lights
Create your own patio chandeliers by wrapping string lights around Styrofoam balls, hula hoops or twig orbs. Suspend your chandeliers from your patio ceiling using varying lengths of twine or decorative ribbon.
Create a Flameless Fire Pit
Want to enjoy the cozy ambiance of a fire without having to light an actual fire? Wrap string lights around wood logs and place them in your fire pit. You'll instantly feel as though you're sitting around a crackling campfire, even if you can't roast marshmallows on it.
Decorate a Garden Pergola
Outdoor string lights make the perfect finishing touch to a garden pergola. Install the lights along beams to illuminate the entire structure, or string them across the top of the pergola to create a canopy of lights.
Make it Rain
Suspend string lights vertically from tree branches or patio ceiling beams to create curtains of lights that resemble glittering raindrops. Our Curtain Rain Lights work wonderfully for this project and instantly turn any outdoor entertaining space into a magical wonderland.
Light Up a Wreath
Wreaths aren't just for the holidays; these rustic decorations look great in outdoor spaces all year round. Our Clear Glass String Lights and Globe String Lights are perfect for creating an all-season wreath. Start with a wire or twig wreath frame, and use twist ties to secure bunches of string lights around the perimeter. Add a few sprigs of holly or evergreen to spruce up your wreath during the festive season.
From delicate bulbs that recreate a starry night sky to large globes that make a bold statement, you'll find a wide variety of outdoor string lights in our collection to enliven any outdoor space. Shop our selection of incandescent and LED string lights today.
Related Products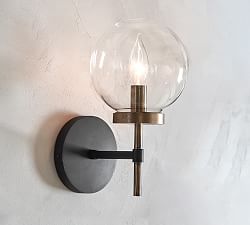 Camryn Glass Globe Sconce
Construction • Crafted of steel and aluminum with ...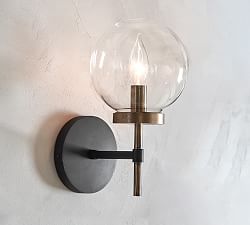 Camryn Glass Globe Sconce
Description
Construction • Crafted of steel and aluminum with a handblown, clear glass globe. • Features an antique brass and bronze finish. • Compatible with dimmer switch. • Damp UL-listed for use indoors or in a protected outdoor area. • ...