Optimize Organization With Laundry Room Accessories
Your laundry room might feel like a catch-all space in your home, but that doesn't mean it has to be disorganized. With the right storage and accessories, you can improve the organization of your laundry room. Pottery Barn's collection of laundry room accessories includes an array of products designed to organize dirty clothes, clean clothes, detergent and so much more. Mix-and-match accessories to create a space designed for productive, clutter-free laundry days.
Clothing Storage
One of the struggles of keeping an organized laundry room is the clothes. Both clean and dirty clothes might overwhelm your space, which can make it feel cluttered and messy. However, it doesn't have to. Many laundry room accessories allow you to keep the clothes organized. Hampers are an essential accessory in containing laundry. You can find canvas bags or divided hampers that allow you to sort whites and colors. Rolling laundry carts allow you to transport clothes from bedrooms to the laundry room and back again with ease.
Some clothes require extra care and accessories in this collection help you care for clothes that need to be hung and air dried. Laundry drying racks provide a convenient place to dry your delicates without draping them over your washing machine or hanging them on the doorknob. A clothes rack offers a convenient spot to hang your freshly- washed clothes and it's easy to roll right into your closet, allowing it to double as closet organization as well.
Additional Storage
Your favorite laundry products need a place to call home so that they aren't scattered throughout your space. Incorporate baskets and bins into your laundry room to improve storage. Discover baskets in a range of sizes and styles crafted from materials like natural seagrass. Also, shelves with hooks are easily mounted to your wall, offering a place to store cleaning products or baskets. Leaning shelves are another way to bring storage to the wall, improving organization throughout your laundry room.
Convenient Tools
This collection also features tools that make doing laundry easier. Pottery Barn offers an array of fabric steamers, including full-sized options and ones for travel. A steam station is a smart investment if you steam many of your clothing pieces. Or, try a travel iron that fits compactly in your luggage, allowing you to create well-pressed clothes when you travel.
Improve laundry room organization with laundry room accessories in this collection. Whether you're adding wall storage or creating a system to organize dirty clothes, these products will help you achieve the organization you desire. Combined with other storage solutions, such as coat racks and shoe racks, your clothing can be organized throughout the home.
Related Products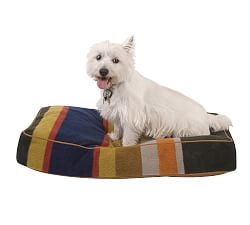 Pendleton™ National Park Pet Bed
Give your pet a resting spot that looks ...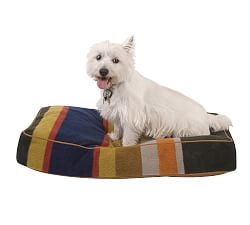 Pendleton™ National Park Pet Bed
Description
Give your pet a resting spot that looks as good as it feels. Bold stripes on soft fleece and contrast cording make this plush bed from Pendelton the perfect addition to any room. With its classic pattern and timeless ...